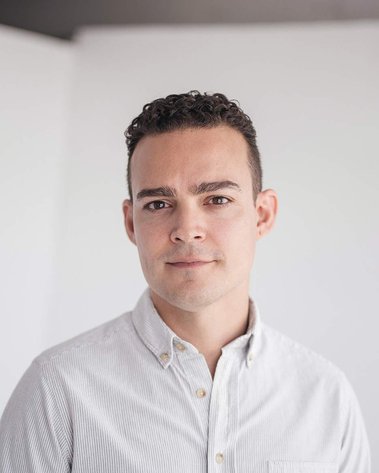 Mark Menjivar is a San Antonio based artist and Associate Professor in the School of Art and Design at Texas State University. His work explores diverse subjects through photography, archives, oral history and participatory project structures. He holds a BA in Social Work from Baylor University and an MFA in Social Practice from Portland State University.
He has engaged in projects at venues including the Rothko Chapel, Eastern State Penitentiary, the Bemis Center for Contemporary Art, The Houston Center for Photography, The Puerto Rican Museum of Art and Culture, Blue Star Contemporary Art Museum and the Krannert Art Museum.

Mark's work has been featured by Artforum, TED, NPR, The New York Times, The New Yorker, The Village Voice, Gastronomica, National Geographic, Orion Magazine, GUP Magazine and more.

Mark is the artist-in-residence with the Texas After Violence Project, a community-based archive and documentary project cultivating deeper understandings of the impacts of state-sanctioned violence on individuals, families, and communities. He is also a member of Borderland Collective, which utilizes collaborations between artists, educators, youth, and community members to engage complex issues and build space for diverse perspectives, meaningful dialogue, and modes of creation around border issues.
He was also named a 2019 Mid-America Arts Alliance Interchange Fellow. This program, funded by the Andrew W. Mellon Foundation, supports socially engaged artists making an impact in their communities.
mjmenjivar at gmail dot com
210.241.7364

Full CV available upon request.

Select Exhibitions/Activations

2022
A Monument for the People, San Antonio, TX. Various public locations.
DLP Mirror, Eastern State Penitentiary, Philadelphia, PA.
Migration Stories, Colgate University.
All the Sacrifices You've Made, Washington State History Museum, Tacoma, WA.
Artists Call NOW!, Cultural Center of Spain, San Salvador, El Salvador.
210 Unknown, San Antonio Center for Photography, San Antonio, TX.

2021
Vessel, Art Gallery of Burlington, Burlington, Ontario, Canada.
ReCollection, Union Art Gallery, University of Wisconsin-Milwaukee, Milwaukee, WI.
KBART, Bartlett Project/ICOSA, Bartlett, TX.
Migration Stories, School of the Art Institute of Chicago, Flaxman Library, Chicago, IL.
Migration Stories, University of Arizona Art Museum, Tucson, AZ.
Migration Stories, Washington and Lee University, Lexington, VA.
Under One Sky, Doseum, San Antonio, TX.

2020
Birds, Rats, Roses, Sala Diaz, San Antonio, TX.*
Please Form a Straight Line, Bluestar Contemporary, San Antonio, TX.
Migration Stories, Krannert Art Museum, University of Illinois Urbana-Champagne, Urbana, IL
Walls Turned Sideways: Artists Confront the Justice System, Tufts University Art Galleries , Boston, MA.
Open Letters, Impact Guild/Dream Week, San Antonio, TX.

2019
Birding The DoSeum, Artsit-In-Residence Program, San Antonio, TX.*
Open Letters, Artpace, San Antonio, TX.
DLP: An Inventory, ATHICA (Athens Institute of Contemporary Art), Athens, GA.
Losing Control: Guns, Government and Group-Think, ATHICA (Athens Institute of Contemporary Art), Athens, GA.
Exchange, University of Texas at Tyler Meadows Gallery, Tyler, TX.
Walls, Lease Agreement, Huntsville, TX.
Blackwell, Public Installation (13 locations in partnership with the Blackwell School Alliance), Marfa, TX.
Monarchs: Brown and Native Contemporary Artists in the Path of the Butterfly, Nerman Museum of Contemporary Art, Overland Park, KS.
Away Message, Sweet Pass Sculpture Park, Dallas, TX.

2018
Luminaria, Common Currents Selection, San Antonio, TX.
Refrigerators, Southwest School of Art, San Antonio, TX.
Monarchs: Brown and Native Contemporary Artists in the Path of the Butterfly, Blue Star Contemporary, San Antonio, TX.
Open Letters, Rothko Chapel, Houston, TX.
From One To Another, Artpace, San Antonio, TX.
Art + Design Faculty Exhibition. Texas State University, San Marcos, TX.
Reimagining the Third Space, KCAI Crossroads Gallery: Center for Contemporary Practice, Kansas City, MO.
Walls Turned Sideways: Artists Confront the Justice System, Contemporary Art Museum Houston, Houston, TX.
From Here to There, UTSA Main Art Gallery, San Antonio, TX.
Monarchs: Brown and Native Contemporary Artists in the Path of the Butterfly, Miami Museum of Contemporary Art, Miami, FL.
Northern Triangle, Mayborn Museum, Baylor University, Waco, TX.
Damage Officially Noted, Bazan Public Library, San Antonio, TX.*
Open Source Here, Dock Space Gallery, San Antonio, TX
Big Picture, Louise Hopkins Underwood Center for the Arts, Lubbock, TX
Common Currents, Artpace, San Antonio, TX

2017
Monarchs: Brown and Native Contemporary Artists in the Path of the Butterfly, Bemis Center for Contemporary Art, Omaha, NE.
Northern Triangle, Washington and Lee University, Lexington, VA.
re/thinking photography, Fotofest International, Houston, TX.
Migration Stories, East Portland Art and Literary Festival, Portland, OR.
Capricho, Mexic Arte Museum, Austin, TX.*
The Places We Live, Morlan Gallery, Transylvania University, Lexington. KY
Art + Design Faculty Exhibition. Texas State University, San Marcos, TX.
Northern Triangle, University of Arizona Art Museum, Tucson, AZ.

2016
Our Comida, Our Cultura, Centro de Artes, San Antonio, TX
By The Pound, Museum of Human Achievement, Austin, TX
Fridges Fight Back: A Chilling Exhibition, KK Outlet, London, England
Northern Triangle, Krannert Art Museum, University of Illinois Urbana-Champagne, Urbana, IL
Invitation, Northern-Southern Gallery, Austin, TX.
Border-land, AP Art Lab and Smart Space SA, San Antonio, TX
Northern Triangle, Threewalls Gallery. Chicago, IL.
Mangur Un Mur, Traveling Exhibition, Six Locations Within Belgium

2015
Songbirds Mingled with Pickpockets, Cultural Commons, San Antonio, TX.
"50x250", French and Michigan. San Antonio, TX.
Presenting…,Texas State University Gallery, San Marcos, TX.
Not My Family Values, Art Photo Index.
CPITX, AP Art Lab and SMART Space, San Antonio, TX.

2014
Untitled (Public Display), Guadalupe Cultural Arts Center, CAM Perennial, San Antonio, TX
Refrigerators, Austin Music Hall, Austin TX*
Northern Triangle, Blue Star Contemporary, San Antonio, TX
Prove It To Me, Reverse Gallery, Brooklyn, NY
Good Taste, Bank of America Center, Kinzelman Art Consultants, Houston, TX

2013
The Luck Archive, Window Contemporary, Asheville, NC*
The Luck Archive, Luminaria, San Antonio, TX*
See Food, Houston Center for Photography, Houston, TX
Consumption, Central Michigan University Art Gallery, Mt. Pleasant, MI
Collect.Give Project Exhibition, Base Camp Photo, Greenfield, MA

2012
You Are What You Eat, 0.00156 Acres, Brooklyn, NY*
Food For Thought, Wignall Museum of Art, Rancho Cucamonga, CA

2011
You Are What You Eat, The Cody Center, Leakey, TX*
You Are What You Eat, Casa de La Cultura, Del Rio, TX*
You Are What You Eat, Various Locations, White Earth Reservation, MN*
You Are What You Eat, Baylor University, Waco, TX*

2010
You Are What You Eat, Southwest School of Art & San Antonio Central Library, San Antonio, TX*
Por/Trait Revealed, Rayko Photo, San Francisco, CA
Conspicuous Consumption, University of Wisconsin-Milwaukee, Milwaukee, WI
Critical Mass, Photographic Center Northwest, Seattle, WA
Slideshow, Yokohama Photo Festival, Yokahama, Japan

2009
You Are What You Eat, Ampersand, Portland, OR*
Eats and Treats, Cole Art Center, Nacogdoches, TX
Waterworks, San Antonio Museum of Art, San Antonio, TX